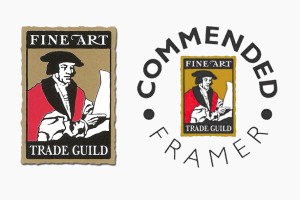 Carroll Crafts Frames is a family business established in 2009 by William & Mary O'Grady. .
William is an accredited Guild Commended Framer (GCF) and also, a member of the Fine Art Trade Guild. GCF is the mark of a qualified framer, enabling customers to shop with confidence.
With this qualification, William ensures high standards, attention to detail and knowledge of materials. Carroll Craft Frames upholds care and quality for the customer's peace of mind.
Building from the success of Carroll Craft Frames, William and family established an intimate Art, Craft & Design Gallery to showcase custom made frames for original artwork, photography, prints, textiles and ceramics. O Gallery is the exclusive supplier of Jem & Joan Collection which promotes handmade, unique home decor and decorative products. O Gallery is a popular option for our customers when shopping for gifts.